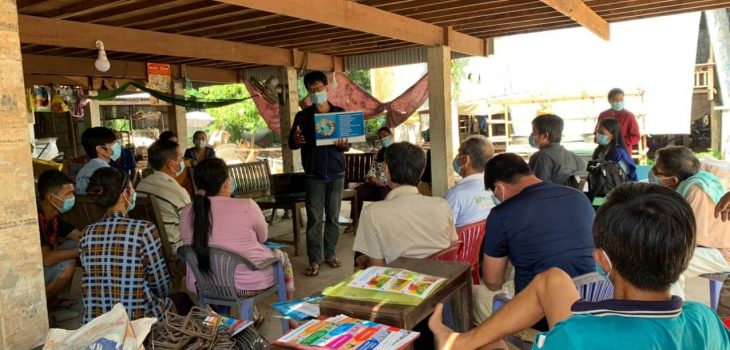 KCD's C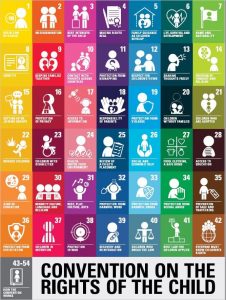 hild Rights project is working towards ensuring the implementation of the rights of a child. But what exactly the Children's Rights are? How are they understood? What does KCD do in relation to them? In this article, we will answer these questions.
In 1989 the General Assembly of the United Nations has adopted the Convention on the Rights of the Child (also known as Child Rights Convention, or CRC) which serves the most accepted standard on children's rights in the world. According to CRC, a child "any human being below the age of eighteen years, unless under the law applicable to the child, majority is attained earlier."
There are four general principles that underpin all children's rights:
Non-discrimination means that all children have the same right to develop their potential in all situations and at all times. For example, every child should have equal access to education regardless of the child's gender, race, ethnicity, nationality, religion, disability, parentage, sexual orientation or other status
The best interests of the child must be "a primary consideration" in all actions and decisions concerning a child and must be used to resolve conflicts between different rights.
The right to survival and development highlights the vital importance of ensuring access to basic services and to equality of opportunity for children to achieve their full development. For example, a child with a disability should have effective access to education and health care to achieve their full potential
The views of the child mean that the voice of the child must be heard and respected in all matters concerning his or her rights. For example, those in power should consult with children before making decisions that will affect them.
For easier understanding, all the rights from CRC are divided into four groups:
Group
Article
Article title
I. Right to participate
3
The well-being of the child is paramount
12
The child's freedom of opinion
13
Freedom of expression
14
Freedom of thought, conscience and religion
15
Right to peaceful public gathering
16
Protection of privacy
17
Access to appropriate information
II. Right to develop
5
Respect of parental rights
7
Name and state membership
8
Protection of identity
10
Family reunification
21
Adoption
23
Disabled children
28
Education
29
Educational aims
30
Children of minorities
III. Right to survival
6
Survival and development of the child
9
Separation of parents
18
Responsibility of parents
24
Health and medical services
26
Social security
27
Standard of living
31
Rest, play and free time
IV. Right to protection
2
Non-discrimination
11
Protection from kidnapping and abduction
19
Protection from abuse
20
Young people without families
22
Refugee children
25
Review of treatment or care
32
Child labour
33
Protection form narcotic drugs
34
Protection from sexual exploitation
35
Protection from sale and trafficking
36
Protection from all other forms of exploitation
37
Torture and imprisonment
38
War and armed conflict
39
Rehabilitation and integration
40
Juvenile justice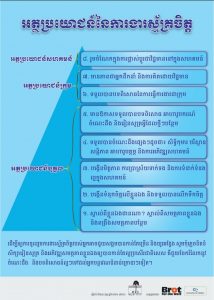 I. Right to participate – means being able to take part in decision-making processes, the freedom to form groups, freedom of thought, and the freedom to gain access to information from a range of sources.
KCD is running a number of Child Peace Clubs in our target areas to ensure that children have a safe place to gather and express their concerns and opinions. KCD supports clubs' members in their representation during the decision-making process at the school, village and commune levels through their representation in respective bodies to make sure that their voice is heard by the community and local authorities. This is especially important when decisions are made on the children-related topics.
We motivate our Club members to actively participate in their community's life and become the driving force for change. We explain to them the benefits of social volunteer work and encourage them
to use their right for participation.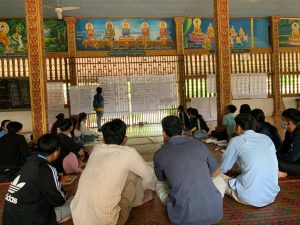 II. Right to develop – means that particu­lar conditions must be fulfilled in order for optimal personal development to take place. Included in this group of rights are education, family, culture and identity as important parts of our lives.
We strongly believe that education is the driving force for the children's future. This is why we pay so much attention to explaining the importance of education to our club members. Unfortunately, it is common in Cambodia that a child is sent to earn income for the family before even finishing secondary school. We try to influence the situation by empowering children and working with their parents to spread awareness about the value and benefits of education. We run the library to promote reading between our young agents of change and support the study groups where children who have dropped out of school get informal education from their peers. Children are also provided with career advice and recommendations on enrolling in universities, available scholarships and other useful tips.
During COVID-19 and limited access to educational opportunities, we have launched an e-library, so that children could still proceed with their studies from home using their mobile devices.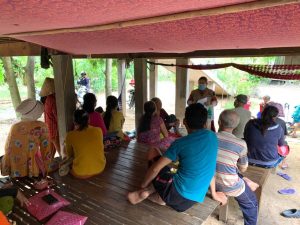 III. Right to survival – The right to survival comprises our basic needs. These include food and protec­tion, the standard of living and health.
During the pandemic, the safety of our beneficiaries is our number one priority. Our Child Clubs members always get the most accurate information about disease prevention measures.
IV. Right to protection – means that young people have a right to protection against abuse, neglect, economic exploitation, torture, abduction and prostitution.
We provide our club members with life coaching and information about the negative effects of drug abuse and unhealthy way of life. As we work in the areas populated by people of different ethnicities, we pay special attention to non-discrimination between the ethnic majority and minority groups, promoting peaceful coexistence and positive interaction. As we work in the areas populated by people of different ethnicities, we pay special attention to non-discrimination between the ethnic majority and minority groups, promoting peaceful coexistence and positive interaction.
To spread the word about the rights of the child, each year on 1st June our Child Clubs members conduct the Awareness Campaign.