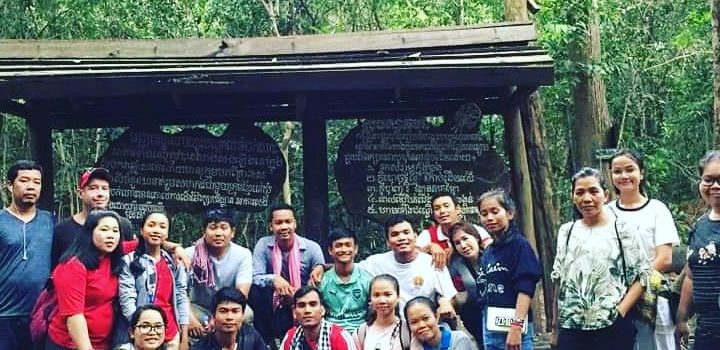 On 18-20th September KCD team has traveled from our cosy Phnom Penh office to Jombok Hoas Training Centre Resort. This was not just a regular teambuilding trip, our goal was to see, how far can we go beyond ourselves.
As you might probably know, KCD is using Forum Theater Methodology in its project activities. Training and implementing Forum Theater definitely requires a certain level of professionalism. Funny enough, no one of us has professional theater background. Thus, it might seem very challenging for our staff to use the method that we have never studied at university.
But life itself is a challenge and as NGO workers we should take it for granted. Every time, one of is using Forum Theater in their work activities, it is a step out of their comfort zone. So we have decided to challenge ourselves even more and to see, how far can we go out of our comfort zone.
Jombok Hoas Training Centre is a cosy eco-resort in Preah Vihear province. The word "eco" means that people who run it try to keep it as friendly to mother nature as possible. Not a single tree was cut down to build this fantastic place and local staff is living in complete harmony with environment, producing minimum pollution or any other negative effect. Jombok Hoas is home to over 30 species of animals and is fully solar-powered. So we were really lucky to find ourselves in this wonderful place.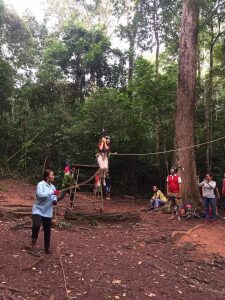 At the same time, resort offers a wide variety of extreme activities that can help you challenge yourself. And this was exactly what we needed. Just like Forum Theater is a step out of the comfort zone for our staff, doing extreme activities is even a bigger challenge. Our team has realized that if they are capable of doing extreme things, they are capable to do Forum Theater as well.
The dancing cable has thought us that it is not possible to achieve big goals without teamwork. Our team has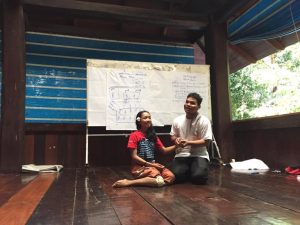 finished the distance in around 48 minutes. It was impossible to do it without helping each other and working as a team. We had to pay attention to our friends and always be around people who needed help. After doing the zip-line and giant swing, we have realized that, even though your task seems to be hard or hardly possible to complete, you should be courageous to take a first step out of your comfort zone.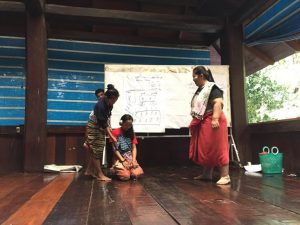 After challenging themselves with extreme activities, KCD staff have expressed that now they feel more confident of using Forum Theater in their work, because now they know more about their capabilities. Therefore, we have also decided to combine the event with Forum Theater practice. KCD staff did several exercises and conducted few role plays to get better understanding of Forum Theater and improve their skills. KCD staff has also designed a strategy of using the methodology in our future work and developing our skills.
We are very thankful to Jombok Hoas staff for letting us know that we are capable of doing more. Now we are full of confidence for promoting Forum Theater as a method of nonviolent peace building in Cambodia.