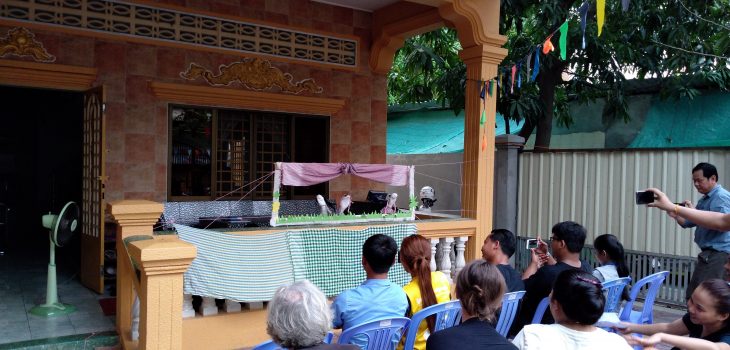 In the end of April and first weeks of May KCD had a pleasure to host an old friend of our Organization – Joanna Lewicka – a professional theater director from Poland and Germany.
This is already 5th time Joanna is coming to Cambodia. Every visit she is providing valuable Forum Theater training to KCD staff and target groups. This time Joanna has conducted two 3-days training sessions: one for KCD staff and one for Forum Theater Group members who traveled from Prek Chrey to Phnom Penh.
During the first training session for KCD staff Joanna went beyond the borders of Forum Theater and encouraged us to learn and use the full spectrum of theater tools, such as Multimedia, Masks, Shadows and Puppets.
KCD staff was trained on developing good scenarios for theater performances and by the end of the third day managed to make four performances using masks, puppets, shadows, multimedia and other props.
The performances were one step forward from the Forum Theater and were closer to professional theater ones.
Joanna has stressed that KCD staff is already quite experienced with Forum Theater framework, so now it is time to learn about more advanced theater techniques and think how to integrate them into future work of our NGO.
We were happy to study the new methodologies, practice, discuss, laugh and develop our actor skills.
During the second training session, youth members from Prek Chrey Forum Theater group joined the training. Joanna was happy to meet her old friends and watch their progress.
During the training participants practiced their Forum Theater skills, conducted numerous exercises and played some improvisation games. They were also happy to learn about Playback Theater – another powerful tool to bring attention to issues inside the society – how it is related and how it is different from Forum Theater and made a small Playback Theater themselves.
By the end of two-day training session participants have stressed that they have greatly improved their actor skills, were happy they were able to learn new techniques and are now looking forward to implement their skills in Prek Chrey.
KCD would like to thank Joanna Lewicka for finding time to visit us and share her experience. We are looking forward to the next visit of Ms. Lewicka and hope to stay in touch and continue our kind friendship for many years in the future!